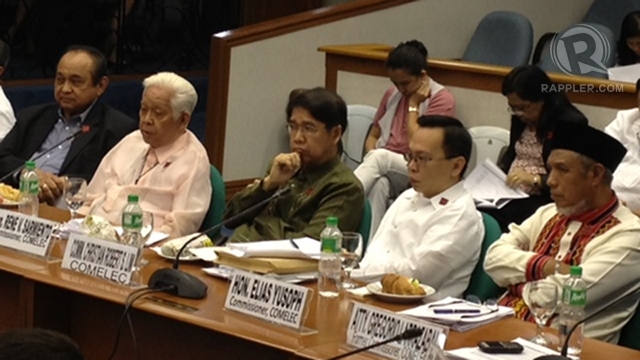 NEW INTERPRETATION. The Comelec will soon issue a resolution to 'clarify' its rule on news interviews. File photo by Paterno Esmaquel II
MANILA, Philippines – Facing criticism, the Commission on Elections (Comelec) on Tuesday, January 22, backtracked on its rule that broadcasters should seek its permission to interview bets even for daily news.
Comelec Chair Sixto Brillantes Jr said the poll body will soon issue a resolution to "clarify" this rule.
Promulgated last January 15, Comelec Resolution No. 9615 said "bona fide" news interviews, among other things, will not be deemed election propaganda if these meet two conditions. These include seeking its "prior approval."
"To determine whether the appearance or guesting in a program is bona fide, the broadcast stations or entities must show that: (1) prior approval of the Commission was secured; and (2) candidates and parties were afforded equal opportunities to promote their candidacy," the Comelec said.
In an interview with reporters, however, Brillantes said the Comelec has arrived at a consensus on defining "prior consent."
"Prior consent should not be interpreted as an express consent coming from the commission. It is just prior notice that they're going to interview all of these. We cannot regulate the interview, but we will just have to monitor the interview and check whether it would fall under campaign propaganda or a legitimate interview on issues, for legitimate news," he explained.
Critics have blasted this rule because the Constitution guarantees freedom of speech, and generally prohibits forms of prior restraint.
Running to SC
On Monday, January 21, Sen Alan Peter Cayetano said he plans to write the Comelec, or run to the Supreme Court, to appeal this rule.
"Kapag inanyayahan ka sa isang interview para sa news, kailangan mo pang magpaalam daw sa Comelec. Eh paano ngayon, 'di ba kung halimbawa may baha sa isang lugar, 'yung mayor i-interview-hin mo. Magpapaalam ka muna sa Comelec para makuha 'yung impormasyon?" said Cayetano, who is Brillantes' harshest critic, in an interview on ANC.
(If someone invites you for an interview for news, you supposedly need to ask for Comelec's permission. What if, for example, there is flood in your area, and you need to interview the mayor. Do you need to seek Comelec's permission first to get this information?)
Comelec Resolution No. 9615 sets precedents for the Comelec.
It lays the groundwork, for instance, for the first time that the poll body would regulate online campaigns. Brillantes on Tuesday, however, admitted its rule on online ads is "vague."
Through the resolution, the Comelec also slashed propaganda airtime by a huge margin. Election watchdogs have long pushed for this provision. – Rappler.com
Source: http://www.rappler.com/nation/politics/elections-2013/20218-comelec-backtracks-on-rule-for-interviews