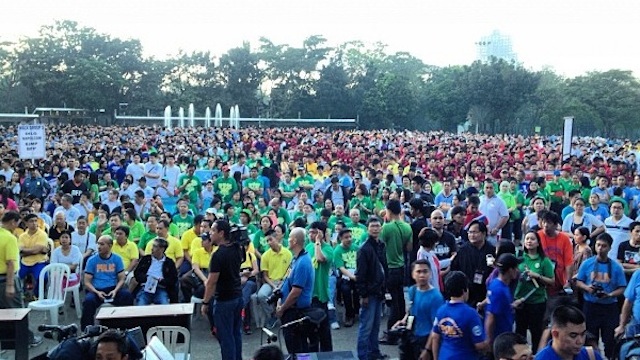 Participants of the "SAFTE 2013" unity walk at the Quezon Memorial Circle, Janaury 13, 2013, in this photo by Comelec spokesperson James Jimenez.
MANILA, Philippines - Advocating "secure and fair elections," the Department of the Interior and Local Government (DILG) led a unity walk early Sunday, January 13, marking the official start of the 2013 election period.
The unity walk, dubbed as the "SAFE 2013" campaign, started from several points in Quezon City, with representatives from the DILG, Philippine National Police, Commission on Elections, and non-government organizations participating.
The groups converged at the Quezon Memorial Circle, where a prayer rally was then held, highlighted by the lighting of unity candles and the signing of a pledge for clean and honest elections.
Comelec spokesman James Jimenez, in a tweet, said the event marked a "brilliant dawn for unity" this election season.
The PNP said similar events were held in their regional offices, "to drumbeat the significance of the May 13, 2013 elections and herald the start of the election period targeting the humane and spiritual side of the electorate."
The 2013 election period commenced at midnight Sunday, with the start of the gun ban.
Source: http://www.rappler.com/nation/politics/elections-2013/19615-dilg,-comelec-lead-unity-walk-for-safe-polls