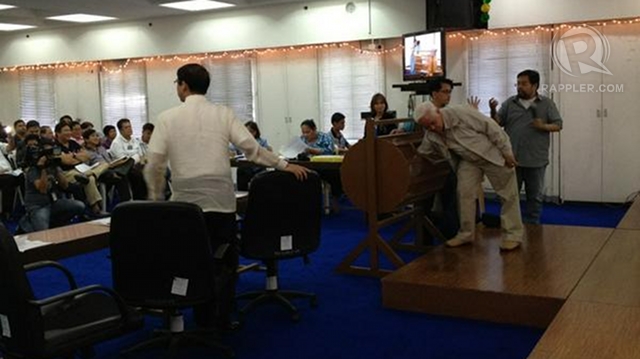 CLERICAL ERROR. Comelec Chair Sixto Brillantes Jr refuses to validate the results of the party-list raffle on Friday. Photo by Paterno Esmaquel II
(UPDATED) MANILA, Philippines – If there's someone who should be happiest about the historic raffle of party-list groups on Friday, January 4, it should be Commission on Elections (Comelec) Chair Sixto Brillantes Jr, who initiated the Comelec's unprecedented party-list purge.
Brillantes, however, appeared displeased after the hour-long proceedings. When the raffle ended, he left the convention hall wanting to speak with his colleagues. He knew something was wrong about it.
The raffle was meant to determine how the party-list groups will appear on the ballot in the May elections. In previous elections, the names were arranged in an alphabetical order. The poll body decided against doing the same for the May 13 elections.
But the Friday raffle broke a Comelec resolution that banned new applicants with Supreme Court (SC) status quo ante (SQA) orders from joining. (Watch more in the video below)
The resolution said that of those who got a reprieve from the High Court, only the groups that the poll body already accredited in 2010 could join the lottery-style activity. Yet the raffle included even groups that were not accredited in 2010.
"We have to follow the resolution," Brillantes said in an interview with Rappler. "I am not validating anything yet."
He said Friday was his first time to see the list of 136 groups that joined the raffle.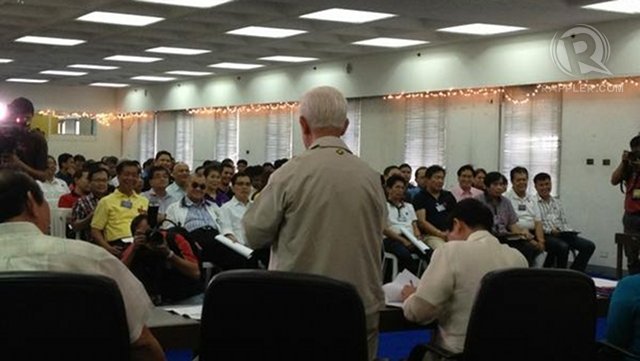 COMELEC RAFFLE. 136 groups join the historic party-list raffle on Friday. Photo by Paterno Esmaquel II
At a press conference later on Friday, Brillantes said the Comelec will withdraw the names of some 13 groups that were not supposed to be part of the raffle.
Brillantes said this mistake was a clerical error.
"In reviewing, our staff had some confusion, so they included new applicants who were able to secure an SQA or status quo ante. We have already announced that our resolution says, very clearly, that new applicants who are able to get an SQA but are not able to get a mandatory injunction, will not be included in the list," Brillantes explained. (See Brillantes' tweets about it below)
The Comelec may finalize the order of party-list groups in the ballot by Monday, January 7, Brillantes said.
Source: http://www.rappler.com/nation/19150-brillantes-refuses-to-validate-historic-comelec-raffle