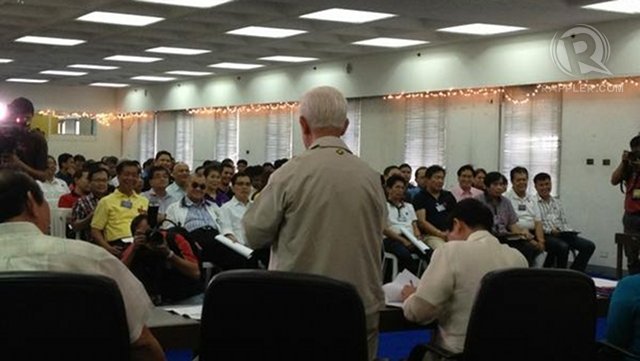 COMELEC RAFFLE. 136 groups join the historic party-list raffle on Friday, but only 123 remain on the ballot after a clerical error. Photo by Paterno Esmaquel II
MANILA, Philippines – Does the number 16 follow 15?
Not necessarily, when it comes to the party-list slots on the ballot in 2013. The Commission on Elections (Comelec) may skip some numerical slots after it revised the results of the party-list raffle held last January 4, Comelec spokesperson James Jimenez said.
The Comelec on Monday, January 7, withdrew 13 names from the ballot after it erroneously included them in the unprecedented raffle for party-list slots. In a resolution, the Comelec said it may re-raffle these slots to other disqualified groups that will get a Supreme Court (SC) reprieve by Friday, January 11.
There's a chance that the SC will no longer rule in favor of any more party-list group, in which case the vacant slots remain vacant. Otherwise, they will have to be accommodated in the ballot as long as the SC orders meet the January 11 cut-off.
Of the 123 groups that received ballot slots, 39 have pending SC petitions after the Comelec disqualified them from the party-list race.
In a phone interview with Rappler, Jimenez raised the likelihood that "the numbers might skip."
He quelled fears that this could lead to confusion come election day.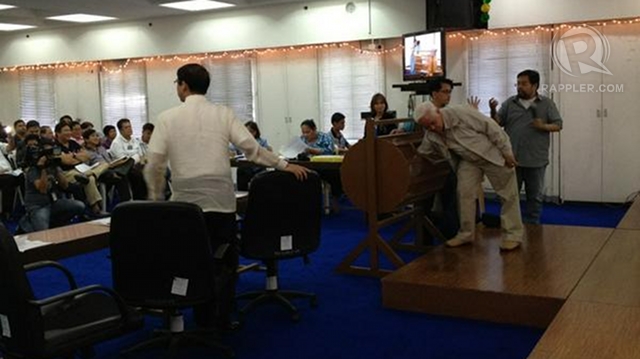 CLERICAL ERROR. Comelec Chair Sixto Brillantes Jr refuses to validate the results of the party-list raffle on Friday, saying it erroneously included 13 groups. Photo by Paterno Esmaquel II
"Hindi ko nakikitang mas magulo, kasi kunyari, 'pag hinanap mo ang kandidatong number 14, hindi mo naman pagbabasehan ang slots. Hindi mo naman bibilangin 'yung slots. You're gonna count 14 down, tapos 'yun ang iboboto mo? Hahanapin mo 'yung numerong 14," Jimenez explained.
(I don't see it to be more confusing, because for example, if you look for candidate number 14, you won't base it on the number of slots. You won't count the slots – like you're gonna count 14 down, then you will vote for that. You will look for the number 14.)
'Voters have to know'
What about groups whose disqualification the SC might uphold after ballot-printing?
"Definitely, the voters will have to know which ones are under a cloud of doubt," said Jimenez, referring to groups that got included in the ballot only because the SC issued a status quo ante (SQA) order in their favor.
He said the Comelec, however, will discuss how to do this without causing undue advantage to the groups involved. "We're concerned that if we single out these groups concerned, they might complain and say the Comelec is campaigning to have them removed, which is unfair to them," Jimenez said in a mix of English and Filipino.
If the SC will no longer issue SQAs on or before January 11, the 2013 ballot will follow this sequence for party-list groups, based on the raffle last January 4. (See downloadable illustration and text below)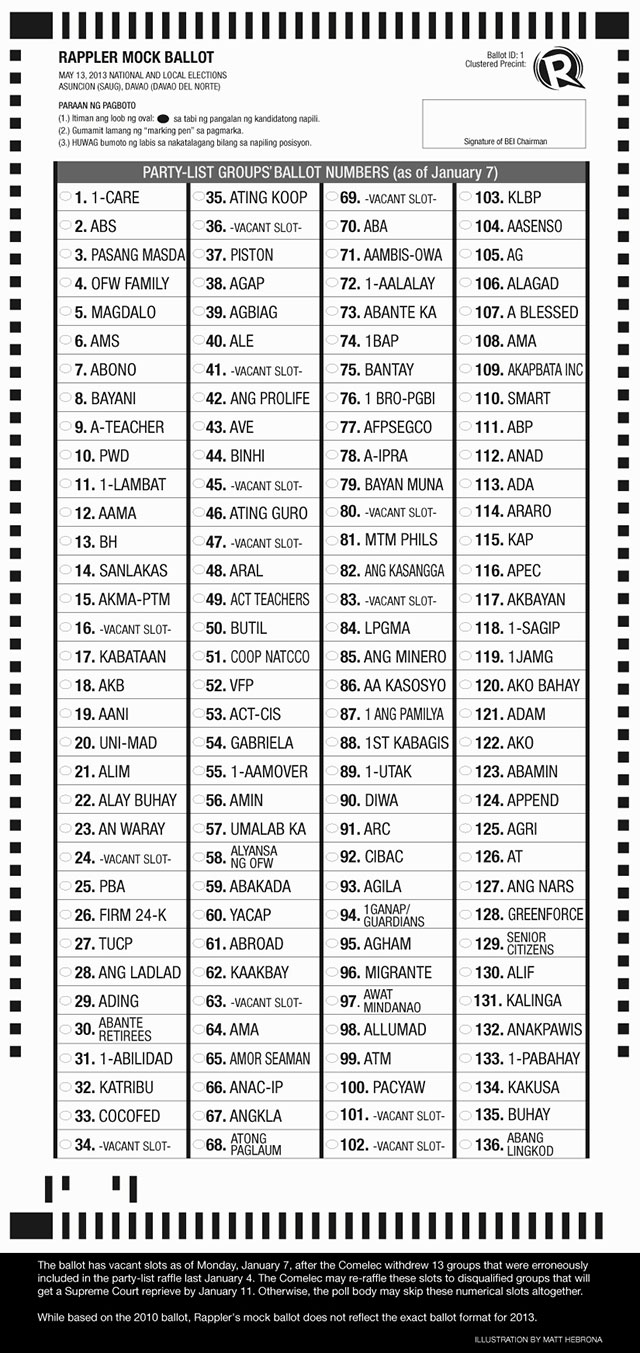 1-CARE - 1st Consumers Alliance for Rural Energy Inc
ABS – Arts Business and Science Professionals
PASANG MASDA – Pasang Masda Nationwide Party
OFW Family – OFW Family Club Inc
MAGDALO – Magdalo para sa Pilipino
AMS – Alyansa ng Media at Showbiz
ABONO – Abono Party-list
BAYANI – Bayani Party-list
A TEACHER – Advocacy for Teacher Empowerment through Action, Cooperation, and Harmony Towards Educational Reforms
PWD – Pilipinos with Disabilities
1-LAMBAT – Isang Lapian ng Mangingisda at Bayan tungo sa Kaunlaran
AAMA – Alliance of Advocates in Mining Advancement for National Progress
BH – Bagong Henerasyon
SANLAKAS
AKMA-PTM – Aksyon Magsasaka-Partido Tinig ng Masa
– VACANT SLOT –
KABATAAN – Kabataan Party-list
AKB – Ako Bicol Political Party
AANI – Ang Agrikultura Natin Isulong
UNI-MAD – United Movement Against Drugs Foundation
ALIM – Action League of Indigenous Masses
ALAY BUHAY – Alay Buhay Community Development Foundation Incs
AN WARAY – An Waray
– VACANT SLOT –
PBA – Puwersa ng Bayaning Atleta
FIRM 24-K – Firm-24K Association Inc
TUCP – Trade Union Congress Party
ANG LADLAD
ADING – Advance Community Development in New Generation
ABANTE RETIREES – Abante Retirees Party-list Organization
1-ABILIDAD
KATRIBU – Katribu Indigenous Peoples Sectoral Party
COCOFED – Philippine Coconut Producers' Federation Inc
– VACANT SLOT –
ATING KOOP – Adhikaing Tinataguyod ng Kooperatiba
– VACANT SLOT –
PISTON – Piston Land Transport Coalition Inc
AGAP – Agricultural Sector Alliance of the Philippines
AGBIAG – Agbiag Timpuyog Ilocano Inc
ALE – Association of Laborers and Employees
– VACANT SLOT –
ANG PROLIFE
AVE – Alliance of Volunteer Educators Party-list
BINHI – Binhi-Partido ng mga Magsasaka para sa mga Magsasaka
– VACANT SLOT –
ATING GURO
– VACANT SLOT –
ARAL – Association of Righteousness Advocacy on Leadership
ACT TEACHERS – Act Teachers Party-list
BUTIL – Butil Farmers Party
COOP NATCCO – Cooperative Natcco Network Party
VFP – Veterans Freedom Party
ACT-CIS – Anti-Crime and Terrorism Community Involvement and Support Inc
GABRIELA – Gabriela Women's Party
1-AAMOVER – A Action Moral & Values Recovery Reform Philippines Inc
AMIN – Anak Mindanao Party-list
UMALAB KA – Ugnayan ng Maralita Laban sa Kahirapan
ALYANSA NG OFW – Alyansa ng OFW Party-list
ABAKADA – Abakada-Guro
YACAP – You Against Corruption and Poverty
ABROAD – Action Brotherhood for Active Dreamers Inc
KAAKBAY – Katipunan ng mga Anak ng Bayan All Filipino Democratic Movement
– VACANT SLOT –
AMA – Aagapay sa Matatanda
AMOR SEAMAN – Association of Marine Officer & Ratings Inc
ANAC-IP – Ang National Coalition of Indigenous Peoples Action Na
ANGKLA – Ang Partido ng mga Pilipinong Marino Inc
ATONG PAGLAUM – Atong Paglaum Inc
– VACANT SLOT –
ABA – Alyansang Bayanihan ng mga Magsasaka, Manggagawang Bukid, at Mangingisda
AAMBIS-OWA – Ang Asosasyon Sang Mangunguma Nga Bisaya-Owa Mangunguma Inc
1-AALALAY – Isang Alyansang Aalalay sa Pinoy
ABANTE KA – Abante Katutubo Inc
1BAP – 1 Banat & Ahapo Party-list Coalition
BANTAY – The True Marcos Loyalist for God, Country, and People
1 BRO-PGBI – 1-Bro Philippine Guardians Brotherhood Inc
AFPSEGCO – Alliance for Philippine Security Guards Cooperative
A-IPRA – Agapay ng Indigenous Peoples' Rights Alliance
BAYAN MUNA
– VACANT SLOT –
MTM PHILS – Mamamayan tungo sa Maunlad na Pilipinas
ANG KASANGGA – Kasangga sa Kaunlaran Inc
– VACANT SLOT –
LPGMA – LPG Marketers Association Inc
ANG MINERO – Sectoral Party of Ang Minero
AA KASOSYO – Kasosyo Producer
1 ANG PAMILYA – Una ang Pamilya Party-list
1st KABAGIS
1-UTAK – 1-United Transport Koalisyon
DIWA – Democratic Independent Workers Association Inc
ARC – Alliance for Rural Concerns
CIBAC – Citizens' Battle Against Corruption
AGILA – Agila ng Katutubong Pilipino Inc
1GANAP/GUARDIANS – 1 Guardians Nationalist Philippines Inc
AGHAM – Alyansa ng mga Grupong Haligi ng Agham at Teknolohiya para sa Mamamayan Inc
MIGRANTE – Migrante Sectoral Party of Overseas Filipinos and their Families
AWAT Mindanao – Anti-War Anti-Terror Mindanao
ALLUMAD – Alyansa Lumad Mindanao Inc
ATM – Abante Tribung Makabansa
PACYAW – Pilipino Association for Country-Urban Poor Youth Advancement and Welfare
– VACANT SLOT –
– VACANT SLOT –
KLBP – Kababaihang Lingkod ng Bayan sa Pilipinas
AASENSO – Ating Agapay Sentrong Samahan ng mga Obrero Inc
AG – Ang Galing Pinoy
ALAGAD
A BLESSED – Blessed Federation of Farmers and Fishermen International Inc
AMA – Ang Mata'y Alagaan
AKAPBATA Inc – Akapbata Sectoral Organization for Children Inc
SMART – Social Movement for Active Reform and Transparency
ABP – Alliance of Bicolnon Party
ANAD – Alliance for Nationalism and Democracy
ADA – Agrarian Development Association
ARARO – Alliance for Rural and Agrarian Reconstruction Inc
KAP – Kaagapay ng Nagkakaisang Agilang Pilipinong Magsasaka
APEC – Association of Philippine Electric Cooperatives
AKBAYAN – Akbayan Citizens' Action Party
1-SAGIP – Social Amelioration & Genuine Intervention on Poverty
1JAMG – 1 Joint Alliance of Marginalized Group Inc
AKO BAHAY – Adhikain at Kilusan ng Ordinaryong Tao para sa Lupa, Pabahay, Hanapbuhay, at Kaunlaran
ADAM – Adhikain ng mga Dakilang Anak Maharlika
AKO – Ako Ayoko sa Bawal na Droga
ABAMIN – Abante Mindanao
APPEND – Append Inc
AGRI – Agri-Agra na Reporma para sa Magsasaka ng Pilipinas Movement
AT – Aangat Tayo
ANG NARS
GREENFORCE – Green Force for the Environment Sons and Daughters of Mother Earth
SENIOR CITIZENS – Coalition of Association of Senior Citizens in the Philippines
ALIF – Ang Laban ng Indigenong Filipino
KALINGA
ANAKPAWIS
1-PABAHAY – Isang Pangarap ng Bahay sa Bagong Buhay ng Maralitang Kababayan Inc
KAKUSA – Kapatiran ng mga Nakulong na Walang-sala
BUHAY – Buhay Hayaang Yumabong
ABANG LINGKOD – Abang Lingkod Party-list
In an unprecedented move this year, the Comelec purged the list of party-list applications, and slashed the number of applicants to 84 from the original 289. Comelec Chair Sixto Brillantes Jr initiated this electoral reform, which is considered a milestone.
Source: http://www.rappler.com/nation/19302-confusing-ballot-for-party-list