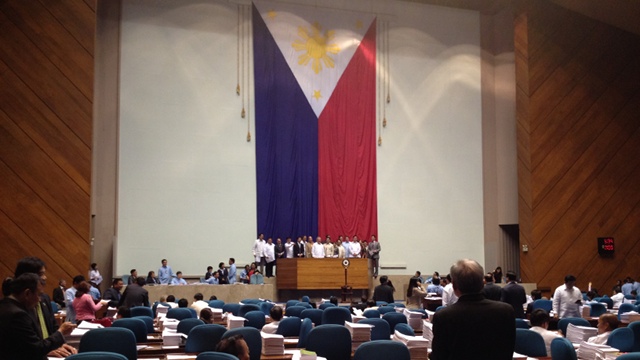 MANILA, Philippines - A few hours after lawmakers met with President Benigno Aquino III in Malacañang on Monday, December 3, the House of Representatives managed to muster a quorum and proceed with the period of amendments for the Reproductive Health bill.
But the anti-RH bill lawmakers put up a good fight. Their weapons of choice? Privilege speeches and nominal voting.
A total of 210 lawmakers were present when the first roll call was called. The House only needs 144 out of 287 members to muster a quorum.
After spending about an hour debating whether or not to allow Palawan Rep Victorino Socrates to deliver a 10-minute privilege speech, the House moved to the period of amendments.
Anti-RH solons proposed amendments line by line.
It took the House of Representatives 5 hours to start tackling the first sentence of Section 2, Page 2 of the consolidated RH bill. Shortly before 10 pm, the session adjourned.
New amendments
Anti-RH lawmakers have vowed to introduce "killer amendments." Pro-RH lawmakers, on the other hand, have said they are prepared to block them.
Cebu Rep Pablo Garcia led the charge for the anti-RH solons, proposing to include the phrase "state shall protect the mother and the unborn." Lagman accepted the amendment.
Through a viva voce vote, lawmakers initially voted to retain the word "universal" in Section 2, which states that: "The State recognizes and guarantees the exercise of the universal basic human right to reproductive health by all persons, particularly of parents, couples and women, consistent with their religious convictions, cultural beliefs and the demands of responsible parenthood."
But Lagman changed his mind and accepted this proposed deletion.
Garcia then proposed to replace the phrase "all persons" with "married persons." The amendment aimed to exclude unmarried individuals from the coverage of the bill.
Through a viva voce vote, the House rejected the amendment. But Garcia insisted on nominal voting. After a second round of votes, the amendment was still not accepted by the House body.
At 9:54 pm, Deputy Majority Floor Leader moved to adjourn the session.
Delaying tactics?
Under House rules, an hour will be reserved for privilege speeches every Monday session.
The first to take advvantage of this was Nueva Ecija Rep Mariz Umali, who delivered a privilege speech against the Josons of Nueva Ecija.
Cagayan Rep Rufus Rodriguez, a staunch opponent of the RH Bill, then took the floor to deliver a privilege speech condemning China's plan to seize ships entering the disputed South China Sea (West Philippine Sea). Rodriguez's speech took about 40 minutes.
Cavite Rep Jose Crispin Remulla spent the remaining minutes of the privilege hour interpellating Rodriguez. Both lawmakers are known RH critics.
Batangas Rep Hermilando Mandanas then asked to extend the privilege hour to further interpellate Rodriguez, but presiding Speaker Lorenzo Tañada III said that this required the unanimous decision of the House body. Tañada then granted a motion to suspend the privilege hour.
After the House tackled bills pending on 3rd reading, lawmakers moved to discuss the RH Bill.
When Deputy Majority Floor Leader Janette Garin was about to discuss it, Socrates moved to be given the chance to deliver a 10-minute privilege speech to question the House's previous approval of the substitute RH bill.
"We who are opposed to the RH Bill are not just delaying its passage. We want to delay national calamity from happening. We are just using all parliamentary options available to make sure it's not passed into a law," Socrates said.
Tañada asked House members to vote via ayes or nays if Socrates should be allowed to deliver a 10-min privilege speech. When Tañada ruled that the nays had it, Rodriguez moved to call for a 2nd roll call.
After this, 187 solons were found to be present, which meant that a quorum was still in place.
Further delay
Socrates' speech would have taken 10 minutes but the whole process that led to its disapproval took much longer.
Pro-RH and anti-RH representatives took this chance to air their sentiments about the bill. With 99-91 vote and 1 abstention, Socrates' appeal for a ten-minute privilege speech was denied.
It was a close fight, and the results served as a preview of how members would eventually vote on the controversial measure.
"Is this a mere vote on whether we are allowing a colleague to speak or not? It is not. It is deeper than that," Garin said. "This is an issue of leadership... of being a true voice of the people," she added.
Albay Rep Edcel Lagman, principal author of the measure said, "Any further delay is an offense against Filipino people."
Bukidnon Rep Jose Zubiri dared solons to put the bill to a vote.
"This is a majority rule with a minority voice. Those of us who are pro-RH are not afraid of the outcome. Are you?" he said.
Anti-RH lawmakers, on the other hand, decried the "railroading" of the substitute bill.
"When you are on the opposite side, would you like to railroaded? Rodriguez said.
The debates resume Tuesday, December 4. - Rappler.com
Source: http://www.rappler.com/nation/special-coverage/rh-bill-debate/17221-after-a-5-hour-delay-house-tackles-rh-bill-amendments