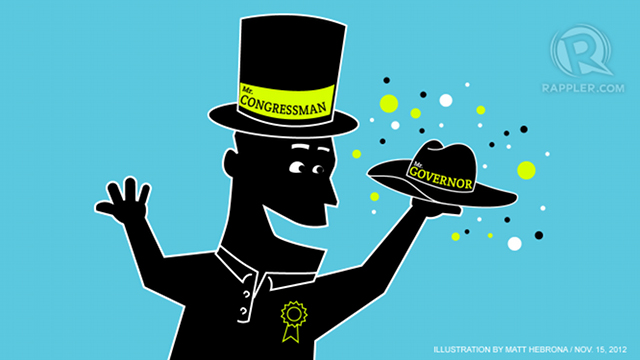 MANILA, Philippines – In more than half of the country's 80 provinces, the major candidates for governor—like in other levels of local government—are old faces.

What's more interesting, however, is that many of them are current or former congressmen, obviously seeking promotion as chief executives of larger geopolitical turfs.

In the rest of the 40-plus provinces with familiar surnames vying for control of the capitol, the aspirants are either former governors or relatives of former governors.
There are 21 incumbent and 7 past members of the House of Representatives and an outgoing senator who have filed their candidacy for governor, according to the complete list obtained by Rappler from the Commission on Elections.

That makes for one national-level lawmaker joining the gubernatorial race in 1 of every 3 provinces.

Of the 21 incumbent solons, only 8 are seeking the governorship of their provinces because they have served the maximum terms allowed in the Senate or House—two 6-year terms for senator, and three 3-year terms for congressmen. They are:

Senator Edgardo Angara (Aurora)
Rep Ma. Amelita Villarosa (Occidental Mindoro)
Rep Luis Villafuerte Sr. (Camarines Sur)
Rep Florencio Miraflores (Aklan)
Rep Ferjenel Biron (Iloilo)
Rep. Roger Mercado (Southern Leyte)
Rep Cesar Jalosjos (Zamboanga del Norte)
Rep Nur Jaafar (Tawi-Tawi)

The rest of the incumbents are foregoing the remaining terms they are allowed in the House to run for governor instead:

Rep Ryan Luis Singson (Ilocos Sur)
Rep Josefina Joson (Nueva Ecija)
Rep Erineo Maliksi (Cavite)
Rep Edgar San Luis (Laguna)
Rep Irvin Alcala (Quezon)
Rep Renato Unico (Camarines Norte)
Rep Antonio Kho (Masbate)
Rep Pablo John Garcia (Cebu)
Rep Jocelyn Limkaichong (Negros Oriental)
Rep Yevgeny Emano (Misamis Oriental)
Rep Marc Douglas Cagas IV (Davao del Sur)
Rep Daisy Fuentes (Sultan Kudarat)
Rep Angelica Amante-Matba (Agusan del Norte)

Seven former congressmen, but who have served in public offices in other capacities, have joined gubernatorial races, too:

Cecilia Luna (Abra)
Tomas Dumpit (La Union)
Hernani Braganza (Pangasinan)
Margarito Teves (Negros Oriental)
Jose Ong Jr. (Northern Samar)
Claude Bautista (Davao del Sur)

Returning governors, relatives

Congressmen Maliksi, Miraflores, Villafuerte, Kho, Fuentes, and Amante-Matba used to be governors, and will now try to reclaim their previous post in their respective provinces. Other former governors who will attempt a return are:

Telesforo Castillejos (Batanes)
Alvaro Antonio (Cagayan)
Eddie Panlilio (Pampanga)
Amor Deloso (Zambales)
Casimiro Ynares Jr. (Rizal)
Jose Antonio Carrion (Marinduque)
Jesus Typoco Jr. (Camarines Norte)
Jose Ma. Zubiri (Bukidnon, where he also served as congressman before becoming governor the first time)
Emmanuel Piñol (North Cotabato)
Geraldine Ecleo (Dinagat Islands)
Robert Lyndon Barbers (Surigao del Norte)
Rashidin Matba (Tawi-Tawi)

In 4 provinces, among the aspirants are relatives of former governors:

Mario Angelo Padaca, brother of former Isabela Gov and now Comelec commissioner Grace Padaca.
Isabel Suntay, an independent who is running against the protégé and party mate of her brother, former Tarlac Gov Eduardo Cojuangco Jr.
Rita Gallardo, daughter of former Camiguin Gov Antonio Gallardo.
Rabia Salapuddin, daughter of former Basilan Gov Gerry Salapuddin.

Two provinces are notable for having two relatives running against each other for the top post.

In Camarines Sur, Rep Villafuerte will be challenged by his grandson LRay Villafuerte Jr in a bid to replace last-termer Gov. LRay Sr (the former's son, the latter's father). There are 5 other candidates for governor in the province.

In Dinagat Islands, mother Glenda Ecleo (incumbent) and daughter Geraldine are the only candidates for governor. The younger Ecleo was the first governor of the province, which was created in 2006. She was replaced by her mother in the 2010 elections.

In all three provinces in the Zamboanga Peninsula, members of the Jalosjos family are running for governor, although one of them is incumbent—Rommel Jalosjos in Zamboanga Sibugay. – with research assistance from Kat Uyan and Xyline Señoran, Rappler.com
Source: http://www.rappler.com/nation/politics/elections-2013/16062-governor-hopefuls-a-solon-in-1-of-3-provinces