Padagyaw Festival in Dumarao, Capiz
Created on August 27, 2012, 10:28 am Posted by nup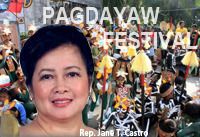 Pagdayao Festival is celebrated August 1st to 5th every year in Dumarao, Capiz.
Being held every year mirrors the spirit of unity and cooperation of its people. One of the few is the street dancing and pista ng bayan. These are the concrete example of group effort. From one fermented idea of planners, action men and executions, they have translated their ideas and concepts into mass action of well rehearsed and well executed play, dancers and graceful rendition of songs and dances. A delight to the eyes of the heart.
Catandungan Festival in Catanduanes
Created on August 27, 2012, 9:52 am Posted by nup
A tradition of the first harvest offering coinciding on the feast day of Our Lady of Lourdes. Derived from the early rituals of the ancient Bicolanos offering their harvest to their own gods as a form of thanksgiving and to seek favor for a more bountiful harvest throughout the year. A long parade of colorfully and grandiosely decorated bull and carabao carts, carrying newly harvested crops, ending with a mass before the Emerald Grotto at Calvary Hills. Here all the offerings are blessed, then distributed to indigent families.
The Catandungan Festival is an event that celebrates the town
Rodeo Masbateño in Masbate
Created on August 27, 2012, 9:48 am Posted by nup
The Rodeo Masbateño Festival is a month-long event staged annually in the city of Masbate. The festival includes a colorful parade of horse riders, rodeo competitions, livestock shows, animal health seminars, an agro-industrial fair and a country carnival.
Men and women in colorful cowboy outfits slug it out in competitions such as lassoing on foot and horseback wrestling, two-person carambola (free-for-all), bull riding, bullwhipping, casting down, and load carrying.