The Black Nazarene Festival in Philippines
Created on January 9, 2013, 3:08 am Posted by nup
History of the Black Nazarene Festival
The Black Nazarene statue was brought to Manila by the first group of Augustinian Recollect friars on May 31, 1606. The image was originally housed in the first Recollect church in Bagumbayan (now part of the Rizal Park), which was established on September 10, 1606, and placed under the patronage of Saint Juan Bautista Saint John the Baptist.
Baras Bird Sanctuary in Tacurong, Sultan Kudarat
Created on January 9, 2013, 3:28 am Posted by nup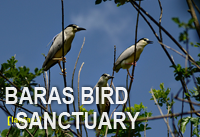 The morning was well on its way and the whole place resounded with the squawks and screeches of a thousand birds. At first the place looked like an ordinary farm with unkept kakawate trees, until you take a closer look and see branches laden with nests and birds. Deep in the middle of African oil palm tree plantation in Brgy Baras in Tacurong is an amazing nesting and breeding area of various species of herons and egrets, and we came right smack in the middle of the nesting season.